Vinyl Siding
Vinyl siding is quickly becoming the most popular type of exterior siding in Minneapolis – and it is easy to see why. Vinyl siding is very low maintenance, so very little upkeep is needed, and it gives the property a property curb appeal at a very affordable price. Because it is available in a wide variety of colors and styles it will suit most people's taste and current property décor. The material is full color meaning it goes right the way through, so if it gets scratched it barely shows. This means it can be used on every area of the property without worry, even those areas that are prone to weathering or heavy wear and tear. This also means that there is no need to paint it or treat it in any way, unlike its wooden counterpart. It is easily cleaned, it just simply needs a hose down.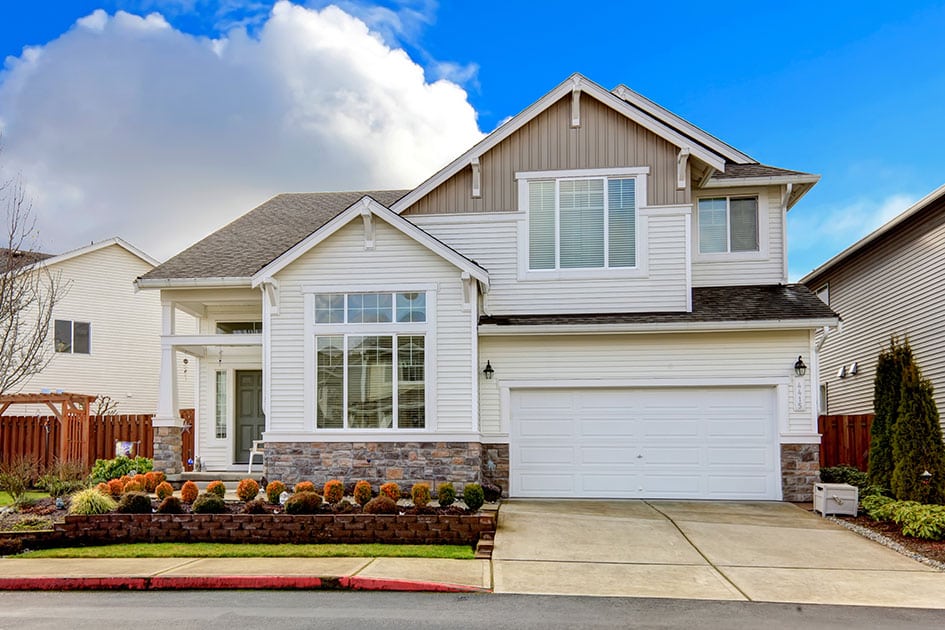 The material itself is easy to handle and can be installed very easily. This helps to keep labor costs to a minimum which just adds to the affordability of the product. This does not take away from the finish as vinyl siding looks just as warm and welcoming as wood but it will not split or rot when weathered.
VINYL SIDING BENEFITS
Long Lasting
Energy efficient when foam backed
No painting required
Easy to clean
Wide variety of styles available including lap, shakes, fish scales, scallops and more
Wide variety of colors and tones available
Both beautiful and long lasting, vinyl siding is loved by many homeowners. Unlike in the past where vinyl siding was limited to a few basic colors and styles, it is now available in almost every color and shade. No longer does your home have to be finished in earthy or pastel tones, it can now stand out from the crowd in bright colors too. The good news is the rate of deterioration is extremely slow compared to other materials, so while some fading is expected due to the durability of the materials used it isn't something a homeowner needs to worry about for many years. This is why warranties on the product can be 30-50 years depending on manufacturer. The depth of color on the material used helps as it runs right through, and not just colored on the surface, this is why scratches are almost invisible as the color inside matches the exterior.
VINYL SIDING HISTORY
Vinyl siding has been in the building materials market since the mid 1900's, but it was not the best quality. Originally planned to be a replacement for aluminum siding it was not until the 1970's and the advancements of technology that vinyl siding really came into its own. It made it possible to be produced quicker, the material was stronger and more durable too. Color options increased which saw customers flock towards this new and improved finish for their homes. Since then the popularity of this low maintenance vinyl siding has increased as there was nothing close to this on the market until fiber cement came along as its main competition.
Used throughout the United States the market is now saturated with vinyl siding manufacturers of varying quality. Quality can vary in different ways such as thickness of materials, from around 03.mm to 0.6mm with the highest grade being the thickest. Most manufacturers offer a range of thicknesses of their vinyl siding so that they can cater to a wider range of buyers. The thicker vinyl siding is the better option as it is more durable, will not weather or wear like wood and can withstand impact. This makes it ideal for the Minneapolis market as weather can be so greatly changeable summers can be hot and winters can be freezing, the thicker siding is less likely to crack or break.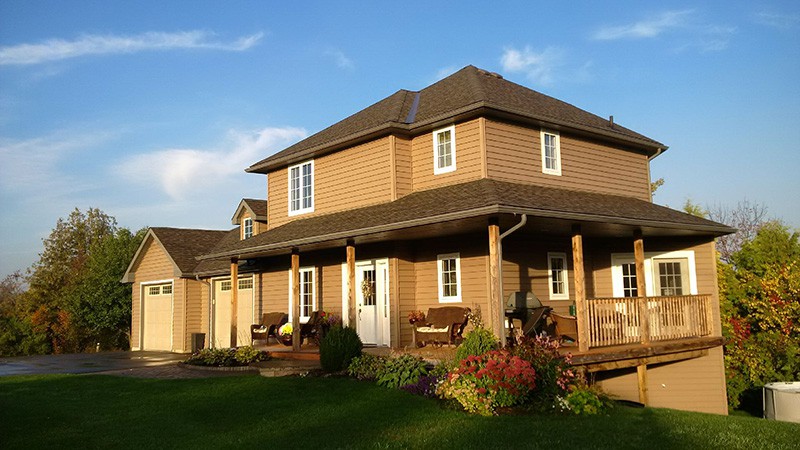 Manufacturing processes can vary from one to another and the additives used can affect the quality of the product, its lifespan and durability. It is important to consider the UV coating of the siding chosen, opting for a higher-grade vinyl means that it is more resistant to fading caused by weather as the UV coating blocks the UV rays that can be harmful to the material. This makes it perfect to be used on the sides of the property that catch the sun, as well as the shadier parts of the home.
VINYL SIDING TYPES
The amount of vinyl siding products on the market today is vast. Popular choices include stone effect siding, wood effect siding, brick effect siding or a standard traditional siding. Siding can be manufactured to fit sympathetically to the side of your home, so even if you have a period property, you don't have to compromise on style. It is also a very affordable option when compared or fiber cement or wooden siding. It does not have to be treated like wood does and you get a wide choice of colors in which to panel your property. It is important to remember that the thicker the material then better quality it is going to be – meaning it will last much longer than thinner cheaper options.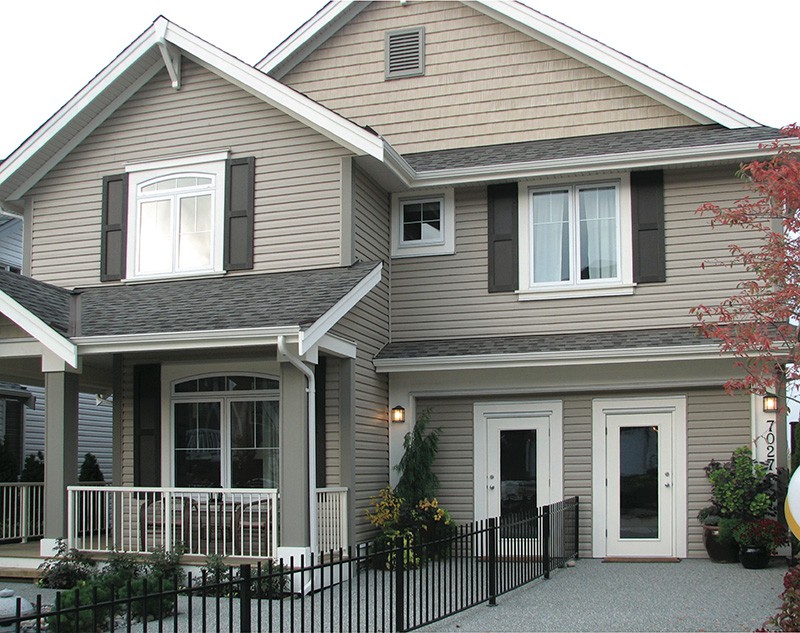 Vinyl siding gives an appealing finish to any property. Wood can crack and paintwork can peel, it can be costly to maintain as it requires treating on a regular basis. Vinyl siding can take all of that away, and after the initial outlay for installation it costs nothing to maintain for the rest of its lifespan, just a quick hose down to keep it clean. It fits easily over old siding for an instant face lift. Minneapolis Siding can complete the installation process in a short time, it is a quick and easy way to increase the value of your home as not only will it look good and be low maintenance it can be more energy efficient too.
INSULATED VINYL SIDING
Insulated vinyl siding has been creeping into the market over the last few years. It is a foam backed board that still has the same low maintenance qualities of standard vinyl siding plus the same durability but with added thermal insulation by up to 30%. Not only is it insulated from the weather it also adds a soundproofing effect to the property, a bonus for those who live near a busy road, airport or area of high traffic. While it is slightly more expensive than standard vinyl siding the added advantages it brings to the home are worth the cost, and can add extra value to the home.
By choosing insulated vinyl siding you will get:
Everything regular vinyl siding has to offer
A material that is stronger than regular vinyl siding
Additional soundproofing
Additional insulation and energy efficiency.
VINYL SIDING INSTALLATION
The installation of vinyl siding should be carried out by a qualified contractor, that way you can ensure that it is fitted correctly and therefore as weatherproof as possible. Minneapolis siding are fully qualified and highly experienced in this field. It can increase the value of your property, add a touch of class to the overall finish of your home and be cost effective. Choosing an expert installer is only money well spent.
Minneapolis | Saint Paul | Bloomington | Brooklyn Park | Plymouth
Maple Grove | Woodbury | Eagan | Eden Prairie | Coon Rapids | Blaine
Burnsville | Lakeville | Minnetonka | Apple Valley | St. Louis Park
Edina | Maplewood | Shakopee | Richfield | Cottage Grove
Call to request a free estimate: (612) 255-0969
Or E-mail: info@SidingMinneapolis.com